OctoMaze Review
8. February 2020

BallDog! Review
17. March 2020
When I read the title "Ultrachess" I wasn't sure if this game would be something I would enjoy as it sounds a bit too advanced skill-wise and I would more likely be categorized as a chess-noob.
However, since I like Chess, I was curious to see what this game is about nevertheless. And to spoil a bit ahead: It is a great app for both beginners and professional players and even ones that have never tried it or even heard of it (if that is possible. The classic board game is more than 1000 years old after all!).
But lets us take a step back and get to know the game…
Beautiful in its simplicity
"Ultrachess" is an app developed by "Boggy Games". It is a puzzle game based on chess. Therefore every chess piece follows the specific movement rules.
Unlike in the classic variant however, you only control a single piece at all times. At the beginning you'll start out with the king, but along the way you will need to change the pieces to reach the base to clear the level.
It is a great game idea that offers a new perspective for experienced (board) gamers as well an entertaining brain game for novices.
Complementary, the design is clear and simple but well thought out. It comes in two color themes: blue hues vs. monochrome and red. The simplicity offers calmness and gives it room, so the layout harmonizes with the game idea itself. Bonus point: No ads are visible while solving a puzzle.
Lastly, I like that there are different modes to play the game: You can advance through the levels, play random or timed ones etc.
Minor flaws
Additionally to the various modes you are also able to unlock several achievements. I could not access the "Ultrastress Leaderboard" or the "Play Games Achievements". In case these are only accessible later on, I would like to have a pop up notifications or something similar to let me know.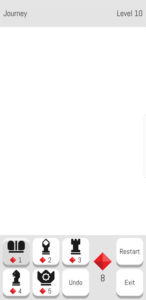 Secondly, I had some minor issues with the resizing option. It is a great addition that it is possible expand or minimize the board game size. However, the board went missing once (see image above). When I tried getting it back into the middle of the screen, it glitched right back out of the visible area. A fix for that small bug would be appreciated.
Lastly, I would like to hear some sounds. I understand that silence is preferred in Chess tournaments making it easier to think, but in this case I would like to have some unobtrusive sounds, so it doesn't feel to empty. Background music is not necessary in my opinion, but some players might enjoy that as well. (With a muting option of course.)
What we love about "Ultrachess"
Game idea
Design
Game modes
What we'd like to see in the next update
Clickable Achievements
Resize fix
Sounds
The Verdict
All in all I definitely enjoyed testing this app. If you are convinced too, give "Ultrachess" a try and download it here.
All pictures are in-game screenshots.